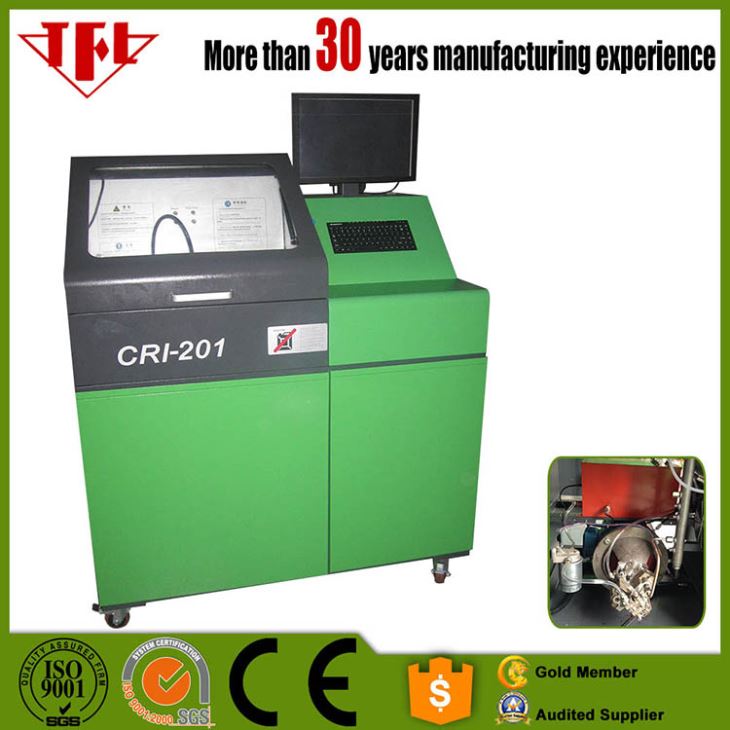 Add to Favorites
Share
Delphi High Pressure Electric Common Rail Fuel Injection Test Bench
Payment

Origin

China Mainland

Minimum Order

1

Packing

Pieces

Inspection

email : chlj.1989@163.com

Remarks

welcome contact by phone number/whatsapp: +8618551053842
Product Detail
Diesel fuel injection pump test bench

Product Description

1. It can check BOSCH,DENSO,DELPHI and SIEMENS.

2. Touch screen operation,easy to learn and use.

3. Automatic closed-loop control rail press accuracy displayed is±0.1Mpa.

4. Variable frequency drive common rail pump BOSCH to produce maximum pressure 180Mpa.

5. Oil injection and oil return are automatically detected and clearly displayed on the large screen.

6. Built-in standard database of common rail injector,data can be updated and added freely by users.

7. The standard database contains the waveform control data of all types of injector,and it can output the standard waveform control signal to the injector.

8. Industrial computer motherboard and embedded operating system windows XP.Its screen displays basic status such as the rail pressure,temperature,motor operation,speed,heating,cooling,also has some windows for fuel injection pump test,common rail test,fuel measurement,parameter setting,injection waveform,problem analysis and data reports.

Specifications

Pump drive system,updated from air drive system,more stable performance

Feature:

1. Industrial computer controlled.

2. 19 inch screen,friendly interface.

3. Windows XP operating system

Common Rail Pump Test Range:

1. Test BOSCH CP1,CP2,CP3,DELPHI CRSP,DENSO HP0,HP1,HP2,HP3,HP4,
SIEMENS DCP pump and so on.

2. Measure the feeding and return volume,pump chamber pressure,feeding pressure,
check sealing performance,and functions of ZME valve

Common Rail Injector Test Range:

1. Test BOSCH,DENSO,DELPHI,SIEMENS solenoid injectors

2. Test up to 6pcs injectors at one time

3. Automatic high pressure cleaning

4. Test fuel injection and fuel return under the circumstance of sealing,pre injection,
idle operation,full load.

5. Freely view,record,save data,updating injector testing database

Advantages

1.Advanced equipment

2.Experienced professional engineers

3.Top technology of mould r&d,manufacturing,die steel,heat treatment

4.Professional in design,manufacte and product internal combustion engine testing equipment

Functions

Inspecting injector atomization quality.

Inspecting injector sealing performance.

Test the cavity pressure of distributor pump.

Automatic inspection and evaluation of injector.

Inspection on sealing performance of CR pump and rail.

Inspecting injector spray volume and oil returned volume.

Huge database storing common rail injuector parameters can be updated regularly.

Inspection on high pressure oil supply performance of common rail pump.

High strength transparent outer cover ensuring the safety of equipment and person,test the common rail pump.

Pressure 200-1800 bar adjustment,control precious±15 bar.Test BOSH/DENSO/DELPHI/SIEMENS CRDI injuction etc.

Product&Equipment

Workshop Photos

Service Tool

Exhibition Photos

Certifications

Company Information

Wuxi Tuofulaier Precision Machinery Co.,Ltd.is located in Wuxi City,on the side of the Beautiful Taihu Lake.

With advantageous geographical position,our company is located in the west of Shanghai and the east of Suzhou.

With advanced technology and strict quality management system,our company always adheres to the principle of"quality first,reputation first".Our products mainly sell well all over the country and are exported to Southeast Asia.

We have a favorable reception of products in many markets.With the enterprise principle of harmony,solidarity,development,and innovation,we never stop pushing for technology innovation and service for customers with honesty and trustworthiness.We sincerely welcome old and new customers to order and communicate with us!

Tuofulaier Precision Machinery is professional as one of the leading manufacturers and suppliers of delphi high pressure electric common rail fuel injection test bench in China. We are equipped with a professional factory covering a great deal of qualified workers who can offer you customized and cheap products. Welcome to wholesale low price delphi high pressure electric common rail fuel injection test bench.
2
YRS
Wuxi Tuofulaier Precision Machinery Co.,Ltd
China
Favorites